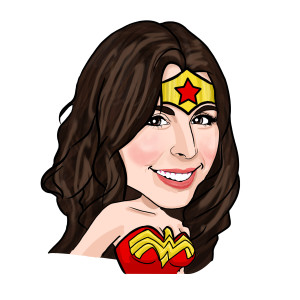 Thank you for your interest in learning more about me! I am blessed to be part of such a wonderful community here in Tampa. First a little on the personal side: I am a mom, a wife, a daughter, a sister, an aunt, a niece, a cousin, and a friend. As women, we wear many hats, and more often than not, TOO MANY hats. Can you relate? That is why I have a Wonder Woman cartoon to the left. One of my clients called me that once and it stuck 🙂
Most days you can find me working on something in my family's business at HSW Associates, Inc, spending time with my "Totally Awesome" daughter, Gracie, helping my husband, Captain Rich, with marketing his charter business,  sharing business tips via my blog, listening to a podcast or reading a personal development book, or riding my Peloton. I truly love what I do.  They say, if you love what you do, you will never work a day in your life – I feel blessed to have the opportunity to share my business and life experience with others in our community.
More about me…
I love coffee & tea, wine & whiskey, dogs & unicorns ;-), weights & yoga,  reading & writing…
I started my blog back in 2013 as a place to share my journey growing my Real Estate business.  It has slowly turned into a place for me to share business growth ideas, getting organized in business, as well as relevant marketing content.
My goal is to inspire and motivate you in business and in life! Whether you are here for tips on online marketing, social media, starting or growing a business, I am glad you are here and hope you found something useful.
My experiences include:
*Real Estate: I am a licensed Broker Associate in the state of Florida. I practice primarily in the Tampa Bay Area, and focus on the commercial side of the industry. I have been involved in the real estate industry since 2005, with experience in residential, commercial, management and investing.
*A small business owner: As a life-long entrepreneur  I have always loved business! The idea of being your own boss really excites me! I have been involved in many different businesses and industries, and learned so much along the way! I tell you this so you know that I have been in your shoes! I understand the start-up world, all the trials that come with looking for a business location, working with a shoe-string budget, building a marketing presence with social media, and networking in the community.
*A blogger: A few years ago, I started blogging to help get my creative juices flowing. My ultimate goal was to become a published author for, you know, a REAL book! But I have loved blogging so much, that my plans to write a book have been delayed. I have blogged about my dogs, my life, my daughter, health and fitness, real estate, etc. So I encourage you to subscribe to my blog, not only for some educational business topics but a little fun too!
*A Breast Cancer Survivor: In September 2019, I was diagnosed with Stage 2 Invasive Ductal Carcinoma. My treatment plan included both chemotherapy as well as major surgery, Bilateral Mastectomy. As challenging as this time has been, I am inspired to help others on this journey. If you or a loved one was recently diagnosed, please reach out so we can connect.
My past experience in my entrepreneur life includes personal training and fitness instructor, website design and marketing, and business management. The coaching and motivational skills are a part of who I am, which is why I excelled in the fitness industry. I now use those talents to motivate and inspire others in life and business.
I like to think of myself as an open individual, as it relates to sharing my experiences. Please feel free to private message me and introduce yourself. I love meeting new people, and happy to share more experiences with you as we get to know each other better.
Hope to see you around Tampa Bay…
Holly Jean
AKA Wonder Woman 🙂